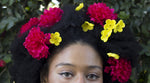 Get to Know Our Products--and Us!
Greetings, Queens! With great pride and excitement, Modern Fro is officially open! We're here to offer fellow baes the highest quality 100% unprocessed virgin remy human hair.
But we're no ordinary hair extension supplier--
We are on a mission. A mission of self love, celebration of your natural beauty, and slaying every day.
When you wear a ModernFro extension, you better walk down the street feeling like the goddess you are. Love yourself, babe